Volvo, Not exactly the byword for outright speed and excitement, did have a performance division a while ago. Called the 'Polestar', it made pumped up adrenaline injected versions of their regular cars. It wasn't a sales disaster, but it didn't sell like hotcakes either.
Polestar before the separation from Volvo
A few months ago, Polestar separated from the parent company to give birth to an independent brand. Aiming to make high-performance electric cars that rival the ones by Elon Musk, the company certainly has the bar set high. Apart from Tesla, no one really makes affordable pure electric cars for us poor souls on this side of the pond. Sure, Rimac has the concept One, Nio has the EP-9 and so on and so forth, but those cars are in the million dollar ballpark. Not exactly cheap is it?
The million dollar Rimac Concept One
Another million dollar Chinese supercar. EP9.
Polestar has kick-started the proceedings with this one.
Welcome, the Polestar 1.
Stunning exterior on the Polestar 1
Right of the back, it's not a pure electric car. It's a hybrid with bucket loads of grunt. Aiming to take the fight to the BMW M4 and C63s the Polestar packs a good amount of goodies that make this a worthy rival to the iconic German duo.
Two electric motors work together and produce 218 BHP. This is coupled with a 2 Litre gasoline engine up front to shell out 600bhp. That's Ferrari territory. A torque figure well above 700Nm means that the thing can pull hard. My favourite statistic though will have to be the 93 miles of range. That's remarkable. But then again, BMW i8 promised similar returns and disappointed us. So, we'll have to test that one out.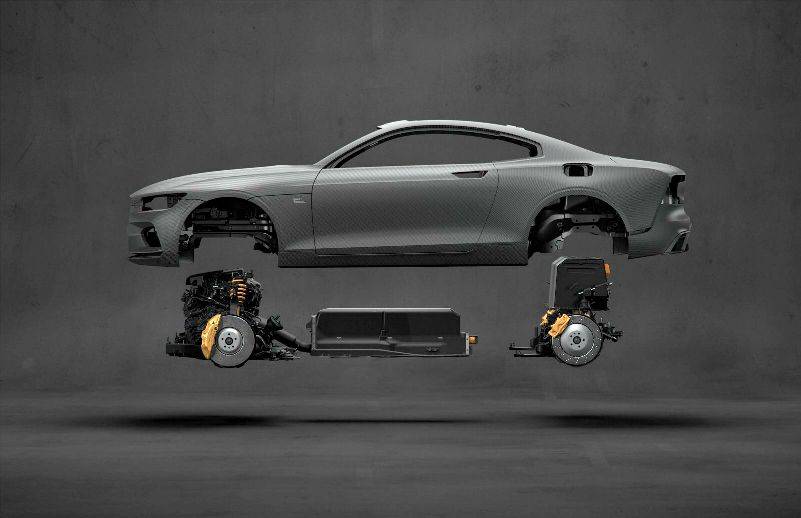 The powertrain architecture on the Polestar 1
It's still very much a Volvo in here. So its safe then?
Future looks bright for the Swedes here. The 140,000 USD Polestar 1 will be joined by Polestar 2 which will be a sedan and Polestar 3 which would be an SUV. Come 2019, Pure electric cars will be on offer.
Until then, work hard to get one of these. With only 500 up for grabs, you better top up your bank balance pretty fast.
What do you think? Is it exciting, or do they have to get back to the drawing board?
Read all about the fastest sport on the planet, with any one of these amazing reads. Click on the image for pricing: